Neo and Randy Jerkin Off (31 min)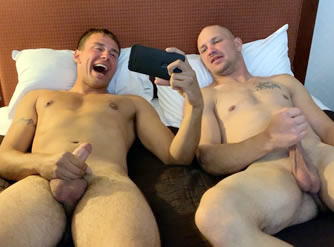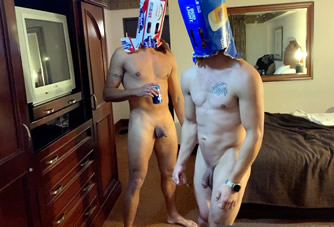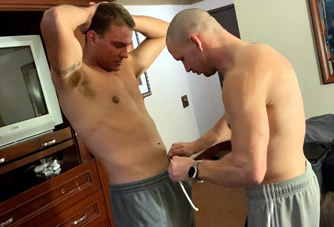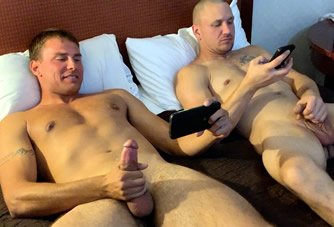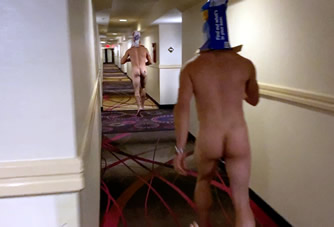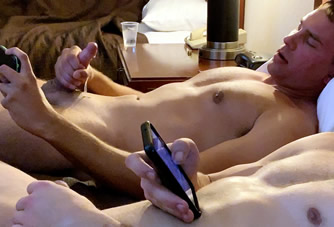 This video is part 2 to Buzzcut 4. Randy and Neo still had a lot of energy to work off, being so stoked to hang out together again for the first time in a year. Even though it got security called the first time, they wanted to go streaking again, or rather Neo did and Randy was easily convinced. I don;t know about you, but I think it's so hot to see these two straight muscle studs running around naked through the halls of our hotel like rock stars.
I don't know if it's related, but security did come to our door again to tell us to keep it down. I don't think we were making that much noise, so I have a sneaking suspicion they were watching us on the cameras, no matter what I said to Neo at the beginning of this video.
I went out with Randy to chat while he had a smoke, which I didn't tape because he had his clothes on in case security was patrolling around to make sure we didn't get up to anything else. I started again when we went back to the room because I had a feeling Neo would be up to something, and he was--when we walked in we found him sprawled out jerking off on the bad, as one does when you're horny AF and so comfortable with your bros that it doesn't matter.
Of course Randy just sat right down and joined him. Unfortunately they don;t do anything with each other, but Neo did let me suck his dick for just a little bit before he blew his load.
Randy's to drunk to finish or even get hard really. He might have had a chance but when he was trying to get nudes from a girl to help his cause, he accidentally sent the request to the wrong girl, and apparently it was really, really, really the wrong girl (best friend's baby-momma lol) and that just killed it lol.
PLEASE NOTE: I accidentally put an old title on this video, so ignore the fact that it says 'Buzzcut 4', I'm fixing it now. Same new video though.