Buzzcut 4 (66 min)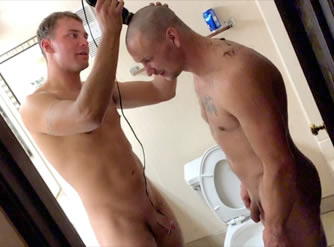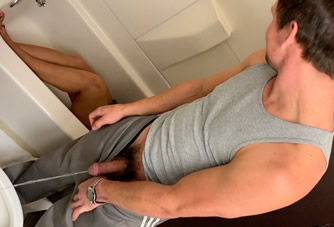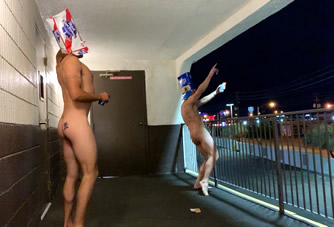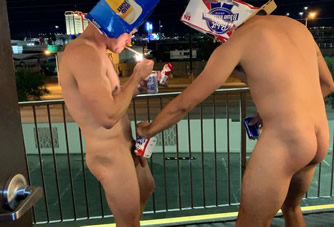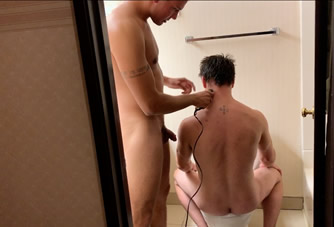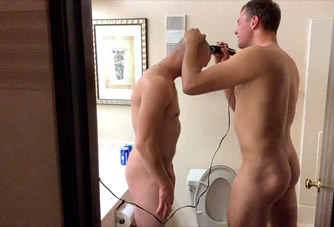 Since Neo was in town, I decided to call up our old buddy Randy and see if he wanted to get the gang back together. Shenanigans ensue!
Randy got out of the Marine Corps about a week after Neo did, but he hung around town for longer before heading home. He's been back since then—he was in town when Fuckmaster came back to visit, but I knew when Neo came back that I had to talk Randy into coming down to party with us, because these two rock-solid all-American clothes-hating boys together would be a force of nature.
Neo and I drove up to Vegas to pick Randy up, and so we decided to stay the night so we could have some fun. Our friend Nikki came up with us. She's a girl, but you don't see her in the video except a few glimpses in the background, and sometimes they talk to her.
The boys go streaking, first down the hotel halls and then out on the smoking balcony in view of all Las Vegas. this causes security to show up and tell us to tone in down a little lol.
Then they get in the shower. They probably should have done this AFTER Neo gave Randy his buzz cut, but whatever.
Oh yeah the buzz cut. Randy was looking shaggy as fuck...it's hard to blame these guys when they get out they like to say fuck it to old regs, but they look so much better with short hair and even Randy agreed his was getting out of hand. Unfortunately, Neo has no idea how to cut hair and so it gets progressively worse and worse until he has to shave it all off. Randy was upset about not but it's fucking hilarious. And hot. When Neo plays with Randy's balls, that's the first time Randy had ever been touched by a guy like that and he was like, "It made me a little uncomfortable but it's cool cuz it was Neo". That's brotherhood for you.
Lots of pissing in the video, BTW.