Jock and Q (36 min)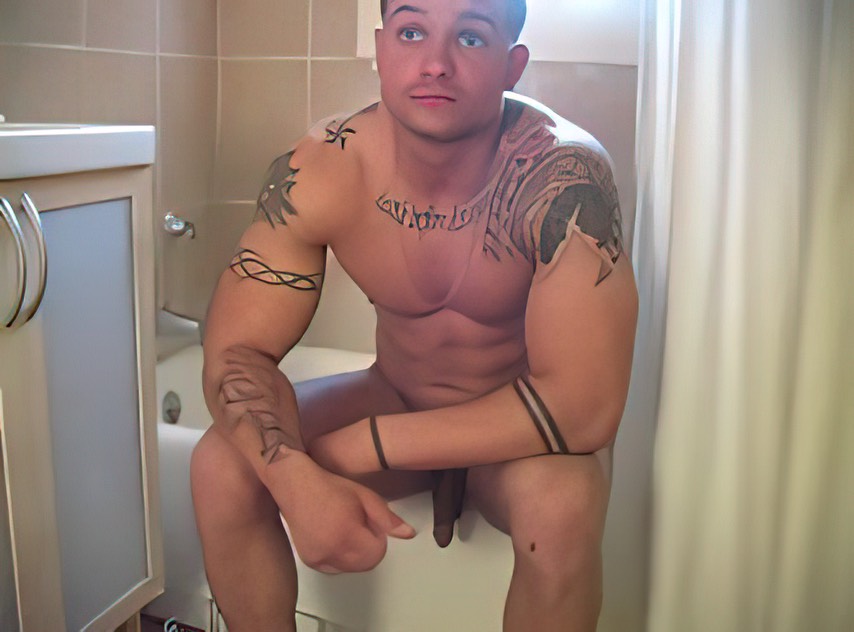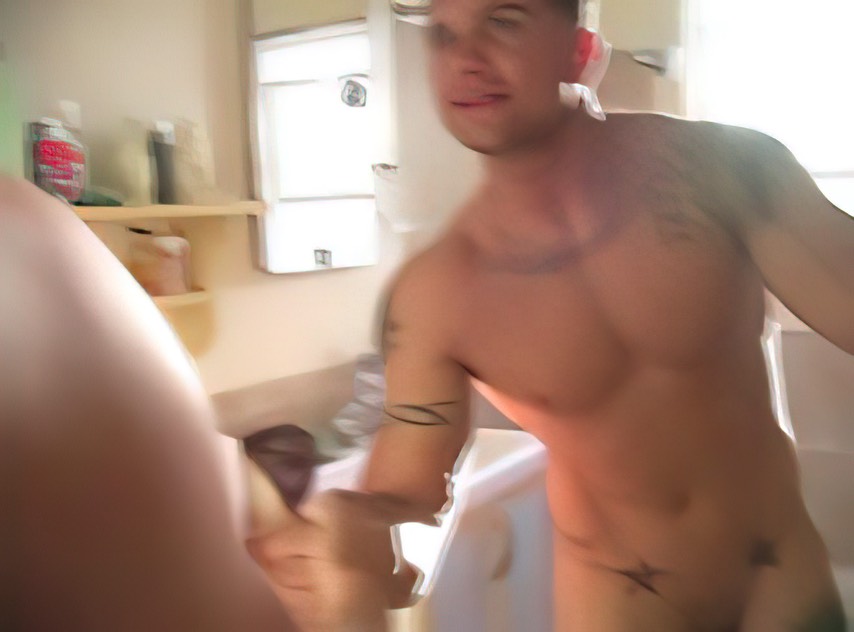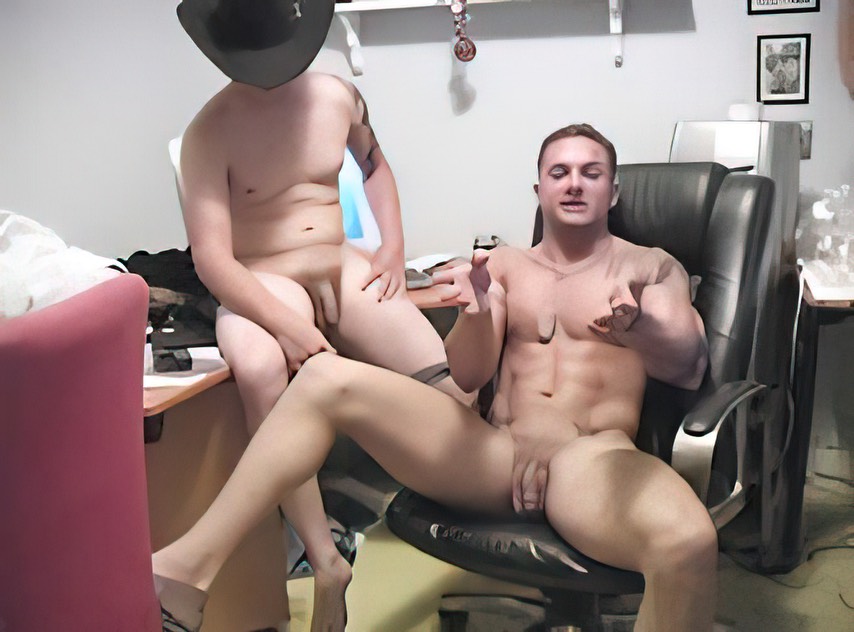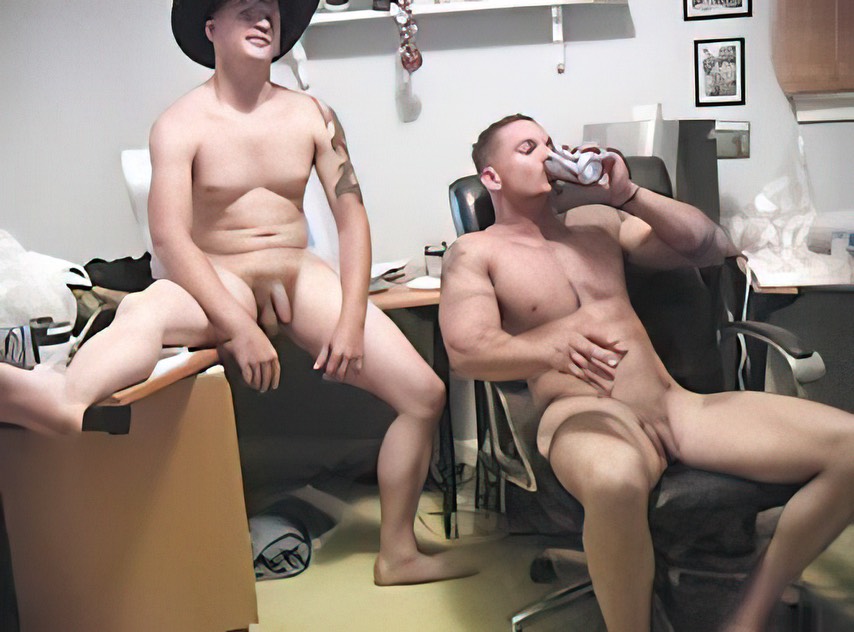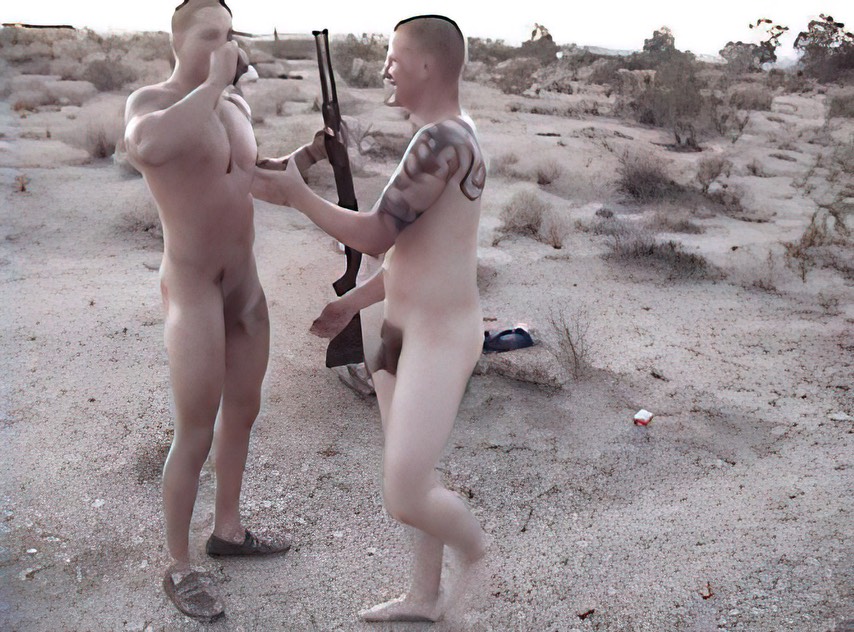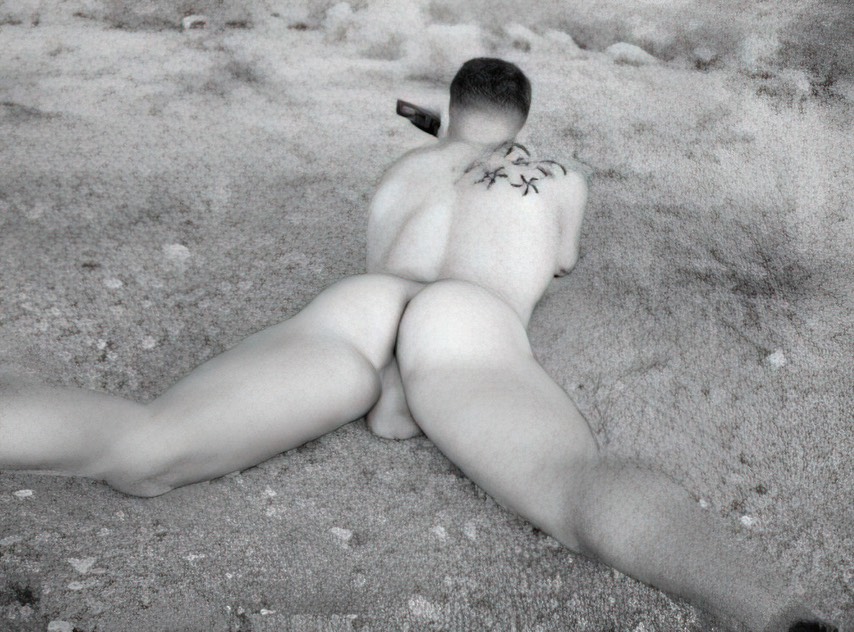 You could also consider this movie to be "Naked Jock Part 2".
Jock's out of the tub and hanging out in the kitchen with his cock hanging out, to the amusement and consternation of his buddy, who at once is cool with everything and also not all that thrilled about having cock in his face since Jock loves being naked an won't put his pants on. He's a really funny guy, and it helps to know that most of his scorn is actually just him pretending to be bothered by it for comedic effect. I personally think it's funny as hell. He wants to see Jock's tatts closer, but wants Jock to cover his junk first. Jock takes us on a guided tour of his tatts, including the new one he just got, "Dying to live." If you look close you can tell that when he got it it was misspelled "Dieing to live"; he had it corrected the next day and the whole tatt is really just a few days old.
Later in the bathroom Jock has put wet toilet paper over his dick which makes for a sort of fig leaf effect. This satisfies his buddy for a moment but he then can't pass up the chance to hit Jock in the dick and it falls off when Jock collapses in pain. It hurts but it's hilarious at the same time. While Jock's sitting on the side of the tub recovering his buddy taunts him that hitting him in the dick was the best thing he'd done all day. Then, much to my surprise my buddy Q shows up. He'd just got married and I had got trashed at the reception just a few days before. Jock and Q were buds from way back when they were in the same barracks at their last station, but hadn't ever run into each other out here, despite both being close friends of mine as you'll see in the next scene. Q is also one of my buddies that can't keep his pants on either, so I knew it wouldn't be a big deal when he found Jock running around naked.
In true form Q drops trou and starts walking around with nothing but his cowboy hat on. The guys end up in my office, because they want to see the tape I'm downloading, which is of Jock and his buddy play-fighting earlier in the afternoon. I wish I could show you guys that video but I can't, what you'd see is Jock and his buddy rolling around on the floor wrestling, then hitting each other in the face to show how tough they were, and ironically to show how good of friends they were. They were really drunk and Unfortunately they went too far, and Jock ended up splitting his buddy's eye wide open, blood wet everywhere. You get to see and hear a naked Jock explain how it all went down. the funny thing is they were both happy about it, they both thought it was cool, Jock especially liked having blood on his tattoos. Yeah go figure but you got to love these guys, they are true alpha males.
The part of this video that really makes me smile is when they're both sitting there stark naked arguing over who is the better friend and who's known me longer. Hey guys you're both great friends!
Then, just because we can, we go out naked shooting with the shotgun. It's great to watch these guys with their cocks flopping around in the outdoors, and they both have a great time shooting off a few rounds. Unfortunately the sun is about to go down, and so the video naturally fades out of its own accord.