Wrestling Buddies (47 min)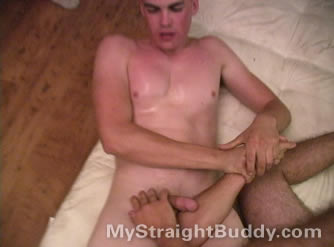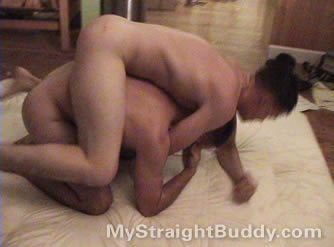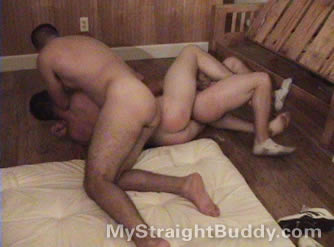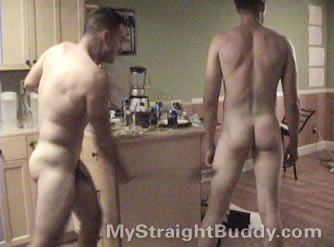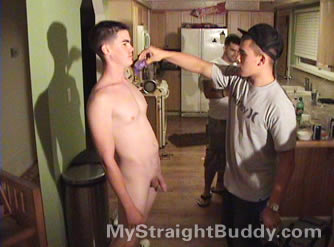 Today's video come from some tapes I thought I had lost, which would have been sad because I think it's one of the hottest videos I've ever taped. You have to watch the preview on this one! There's over 40 minutes of this naked wildness. They are from the same night as the movie Gangbang Outtakes, but this is what happened after the guys got done fucking the girl.
Trevor, Nick Gunner, and Meatgrinder are all guys that love to be naked and even though she was gone they were in no hurry to put their clothes back on. We had been drinking and you could have cut the testosterone with a knife. Trevor starts off the insanity by shooting one of the leftover condoms at Gunner and Meatgrinder, which starts a free for all. My buddies Killian and Kaneohe, who were in the same platoon as Trevor and Nick, had come over with those guys but hadn't been part of the gangbang (although I'm sure they woulda liked to be) so they still had there clothes on but that didn't stop them from getting in on the action. Killian whacked Gunner on the ass with a flyswatter and from there it turned into a crazy naked free-for-all.
Five guys packed into my kitchen...three of them naked in front of their bros from the barracks, who are just as eager to have fun. in fact it looks more like a locker-room than a kitchen, you can just imagine these guys showering after a hard PT and slapping each other with towels and whatnot, but because it's my house it gets way crazier. Pretty soon they're wrestling around on the floor. Now I love to watch some wrestling, I think it's cool when my bros are so comfortable being naked with each other they can roll around on the floor together with their cocks out, but this is even better because there's THREE of them rolling around together in a pile and they're doing it in front of their marine buddies who are pretending not to enjoy the show but who nevertheless stay to watch the whole thing. It's super hot when Kaneohe drips lube on his naked buddies. Now that's a good friend.
But that's not all...for the last round Wyatt AKA Fuckmaster, who hates wearing clothes more than anyone I know (well except for Trevor maybe, it's a tie) and was a state championship wrestler in high school, join in. He was in on the fucking but had since put on his pants to go to the store for booze, decided he wanted to be in on this action too. A few months before, Fuckmaster's dad was in town and they had been talking about his high school wrestling days and I heard about a signature move of his. So you'll hear Meatgrinder keep asking to see 'the Move' and me saying 'not yet' because I knew that would end things real quick and I wanted them to keep going. Eventually he uses it on Nick Gunner though and boom it's done. It's so fast though everyone wants to see a step-by-step breakdown. BTW, if you want to watch these guys actually fucking the girl, head over to SemperFcuk.com to watch these guys in action.