Naked Driving (22 min)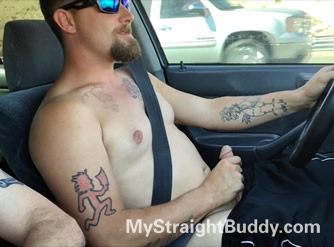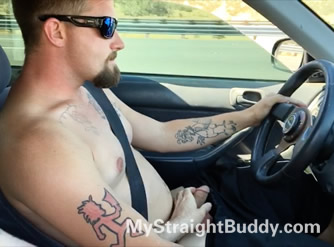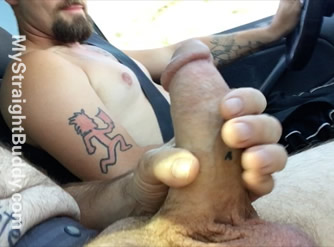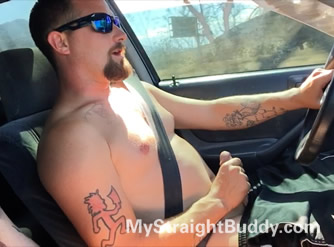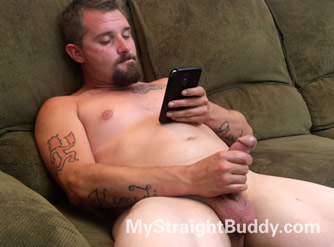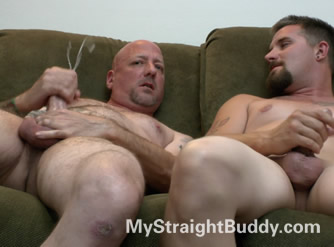 Long time fans of my site know that 99.9% of the guys I tape on my site are Marines from the bas next door. One of the only civilians I ever taped was big-dicked Stoner Scott. The cool thing about Scott is that he was raised by nudists, so even though he's straight he doesn't give a damn about being naked, at all.
On this particular day, Scott, his [ex]girlfriend and I went to LA to pick up a used car that he had found on Craigslist. Once he had forked over the cash for the old beater we sent his ex back in her car, and we headed back home in his new ride.
Now on the way down there Scott and I discussed doing something wild on the way back, that both of us had always wanted to do--driving down the highway naked and jerking off. Both of us had done it on our own at some point in our lives, but neither of us had done it with a buddy. It was as much fun as I had imagined,
Unfortunately it's hard to get stable video on an iPhone driving down the highway, especially in an old beater with crappy shocks so it was a rough ride and so is the first part of the video. We were just having a fun day, and luckily I got some of it on my phone, and I wanted to share it with you.
When we got back to my place we were horny AF and decided to put on some porn and finish up. Scott wasn't able to cum, but apparently I had been storing up a huge load which exploded in a huge cum fountain all over my chest and face, while Scott watched in amazement.
BTW that scrape on my knee came from being out drunk with my guys and taking a hard spill.