Nick and James: Operation Fleshjack (35 min)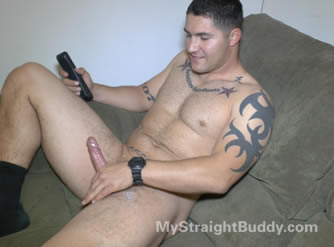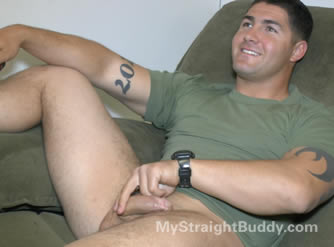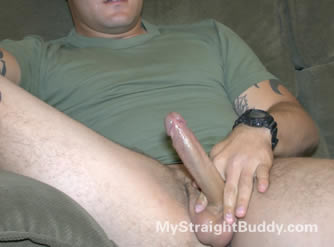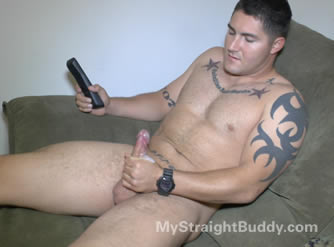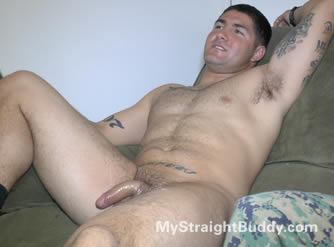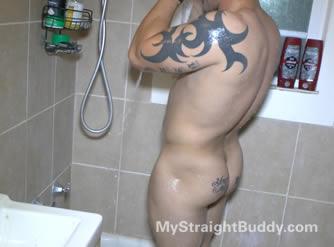 So, this is a video I recorded two and half years ago, right before the end. It sucked to have to put it on the shelf, because it's such a hot video. It's the last one with Nick, who was the Marine who got popped in the 29 Palms Marine Porn Scandal, and James who was a sergeant getting out of the USMC so I got him to let me tape him in uniform. It was going to be the very next video I released but before I got the chance, Nick called me up and told me that he had got busted by his command.
So you didn't get to see James (who I was trying to pass off as a 'Mystery Marine', but it was James) jack Nick off with a fleshjack. that's why he has his cover on indoors, BTW. It's just as well, I'm not sure we were fooling anyone.
Amazingly, this is the first time Nick and James had met, amazingly since they had both been over many times before, taking advantage of the loose morals of my jerk-off couch separately but never together. In the banter at that beginning you can hear us decide that the Marines that comes over and jerk off to porn on my couch should be called "Friends of the Couch". Nick and James are definitely friends of the couch, and became good friends over their shared love of the Fleshjack that day.
This is actually the companion video to a video that got released and the pulled because of the scandal, Mystery Marine Blowjay. Like I said, the Mystery Marine is actually James, who is no longer a sergeant so I don't have to worry about it anymore. Nick actually was the cameraman for some of that one. I have to say it was really hot to know my buddy Nick was watching me suck a huge cock. Well it got him all turned on because then he wanted to pop in a porn and rub one out himself. And having seen James get a dick-licking from me he knew that James wouldn't mind giving him a helping hand.
Turns out he enjoyed that helping hand even more than he thought, you will love watching him with a shit-eating grin on his face as his new buddy James takes care of him with my fleshjack. He gets into more and more, draping his legs over James so he can get in closer. It's so hot, and then Nick finally busts a huge, gooey load, and then sits there naked next to his new buddy enjoying the feeling of having just got off.
Then he finishes up with a shower, as he and his new buddy talk about typical Marine shit as James. Nick askes if he can take a leak in the shower, and I'm like "Duh". Enjoy!