Naked Havasu (38 min)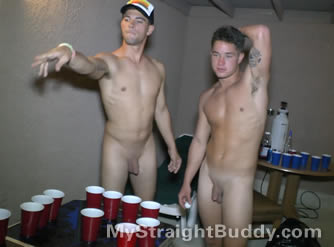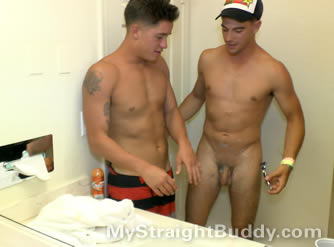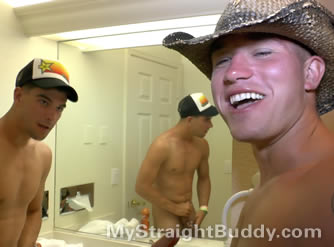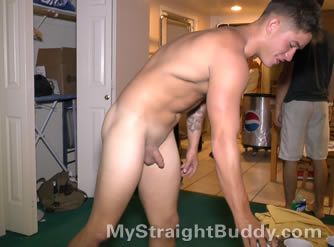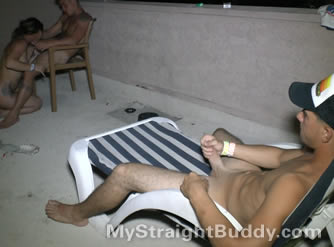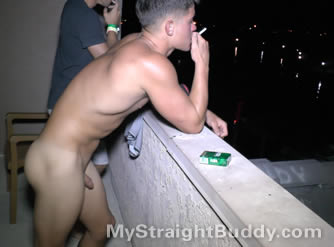 Last Labor day, a bunch of marines and I went to Lake Havasu, which is a big party spot that goes nuts with wild parties and girls on major summer holidays. The marines for their part are mainly happy to just get off base for a minute.
After a crazy two days of partying we all ended up back in my hotel room. Pretty much everyone had gotten laid several times that weekend, and my boys Tony and Kenny were no exception. And yet, even with all the ass they had pulled, they were still ready for some more. Fortunately, my girl Chrissie was ready to take of them.
This is not that video. As soon as I edit it it will go up on SemperFuck and you can watch her getting railed by two hot cocks. This video is all the stuff that happened in between the fucking.
So, there I was, in Havasu. I had gone out to eat with some friends (guys, they have some amazing fucking buffets in Havasu City) and came back to the room, and everyone was watching TV. The door to the bedroom of the suite was closed. "Who's in there?" I asked. "Oh that's Chrissie and Kenny, they're fucking." Wel, no one fucks in my room without me getting to tape it, so I barged right in.
Chrissie and Kenny were fine with being taped, but now Tony, who had been watching TV, wanted in. They were cool with that too. Tony wanted to take a shower and shave his balls first (I know I know...why these guys think they have to shave their balls I dunno, it gives them razor burn and I hate it, but try to tel them that).
Now Tony...you've seen Tony a bunch. Tony is a hot Italian kid, who pulls more ass than a toilet seat. He got laid by several hot girls that weekend, he was at a party of mine last weekend and he took home a hot girl, he is a pussy magnet. I say this because you should notice the chemistry between him and Kenny. He wants Kenny to watch him shave his balls, and Kenny wants to watch. Even though Kenny says "I don't want your cock on my leg," when you see how he looks at Tony you might disagree. Tony says "Get used to it," so I don't think he's that opposed either. And when Tony gets back in the shower, watch Kenny's hungry eyes follow him in. OMG.
Then the three of them climb into bed and start going at it, but you'll have to wait for the video to go up on SemperFuck to see that.
Kenny however has been drinking all day long, and it's his first time being taped, so his dick gets a little shy. We decide to relax by going up on the rooftop dec for a minute and playing a round of beer pong. You will drool as watch these two gorgeous guys running around naked on the roof deck of our hotel, as a huge party rages on below.
Kenny, BTW, is from the swamps of Louisianna, along the border of Texas. You can hear it when he talks. He was actually denied beer once by a Kiw-E-Mart clerk who though he was drunk, even though he wasn't. His drawl is as thick as molasses and twice as sweet. I fuckin love this guy. And, what a perfect ass.
After the game, the trio returned to their fuck session. Again, you'll have to go to SemperFuck to see that...I will let you know here on My Straight Buddy when it's up. However, I did include a little piece of it here, as Tony started out just watching the Kenny getting his dick sucked by Chrissie. He's laying there in a deck chair, stroking his cock while he watches the live porn of his buddy's knob getting polished. Honestly I'm pretty sure he was watching Kenny's hot ass. It makes me happy when a straight buddy of mine, who is maybe a bit curious, can get a good long look at something he wouldn't normally get the chance to appreciate like that.
After a bit of fucking on the roof deck, we all went downstairs again. After that session was done, Kenny wanted to go back up for a smoke. You can see everyone in the room as he walks out his door naked and shows his junk off to everyone. nice!
Upstairs, Tony (who has his shorts on) joins him for a smoke as they look out over the party raging below. There's something really hot about a guy who's comfortable with his dick swinging while talking to his bro who has his clothes on. At least I think so. Watch the video and you can judge for yourself!