Dan and Tony Jerk Off Part 2 (29 min)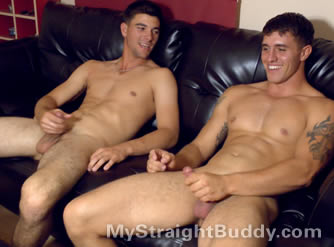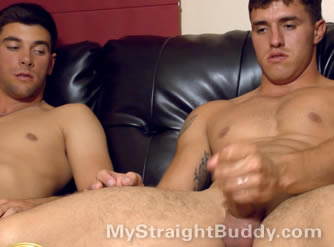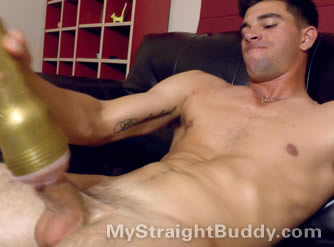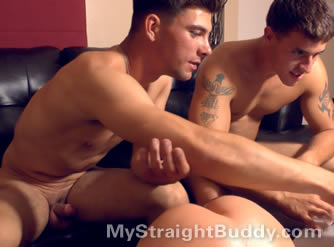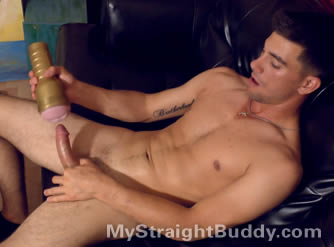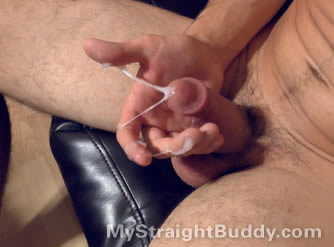 Dan and new buddy Tony move over to the couch...the nice new couch my Mom bought, She'd be appalled, but she's not around to complain about it and boy do the two of them look good on it. heck out the way Tony is checking out his best friend Dan as they're spanking it together. I don't blame him, Dan is so hot I could't keep my eyes off him, either.
Now originally these two were going to double penetrate the fake pussy and ass...how they were going to do that I don't know, but it was Tony's idea and Dan was all about it. Unfortunately Tony has a little case of the nerves and is having a hard time of it, pun intended. Not Dan, the camera turns him on. And so does the fleshlight, which is like his favorite thing in the world ever, maybe even more than his girlfriend. He cubs in no time, leaving his buddy Tony to work out the rest by himself.
Now you can't see this because the camera's all on Tony, but Dan was in no hurry to put on his clothes after he was done. He fucking loves to be naked. It is unnatural for that marine to wear clothes. So when the video Tony is watching ends and he asks Dan for help picking a new one, Dan is still balls-free when he comes over and sits next to his buddy on the couch to help him out. You would be too if you were hanging out at my house. Also, while Tony is finishing up, in the background you can hear the clinking of plates and forks. I set the tamer on a tripod and left Tony alone so he could get over his nervousness by finishing up by himself. Dan and I were starving and so we heated up some leftovers, and Dan at dinner with me with his cock out the whole time.